THE WINERY
Wineries El Tanino is located in the emblematic region of Los Altos de Santiago in Hoya Gonzalo, Albacete´sprovince.
Constituted in January 2006, the winery is integrated by partners of Hoya Gonzalo, Chinchilla de Montearagón,Higueruela, Bonete y Pozo Cañada, between which is concentrated production estimated of 3 million Kg of grape, and around 90% belongs to Garnacha Tintorera´s variety, being the rest of the production, varieties like Syrah, Petit Verdot, Merlot, Monastrell, Sauvignon Blanc, Macabeo and Chardonnay (in his white variety).
The main goal of our winery is to work the grape with care and effort. We take care of the vines in each step, from the vegetative period to the maturation, this way we obtain and select the best grapes of vineyards grown at 970 m of altitude where the climate and the kind of ground add quality and distinction to our wines.
The Garnacha Tintorera, despites of being the most unknown, has demonstrated an optimum aromatic and poliphenolic potential for barrel aging.
From the white wine "ALTOS DE SANTIAGO, CHARDONNAY", the young red wines "SYRAH", "CABERNET", and "MERLOT", to the highest expression of the Garnacha Tintorera "1752" it can be appreciated the work and dedication of the winery to offer in each sip a walk through the senses.
FACILITIES
Full capacity of the winery in stores: 30.000 hl
Bottles in stock (approximated average): 100.000 bottles
Own vineyard hectares: 540
Nº American oak´s barrels: 150
Nº French oak´s barrels: 450
ORIGIN AND CULTURE
Wineries El Tanino belongs to D.O. ALMANSA. The denomination is found in the oriental part of Albacete province, only 30 km from Albacete capital.
Because of its territorial situation proximate to Levant, Hoya Gonzalo, was populated by towns belong to the Iberian culture. The first archeological remains that belong to Iberian populations were founded in Hoya Gonzalo.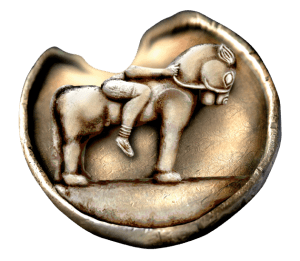 The "Iberian horseman on horse" is the emblem of the winery and it represents the culture and the viticulture vocation in this area..
Between the archeological rests is outlined the complex sculpture that represents a mounted warrior at the beginnings of the V B.C. century its considered the biggest Iberian sculpture (1,8 m).
It's an unquestionable piece of beauty, and was exhibited during the EXPO`92 of Sevilla in Castilla-La Mancha´s pavilion.
Nowadays, we can find it in the Provincial Museum of Albacete, being one of them best pieces.